Inauguration of the project Culture Code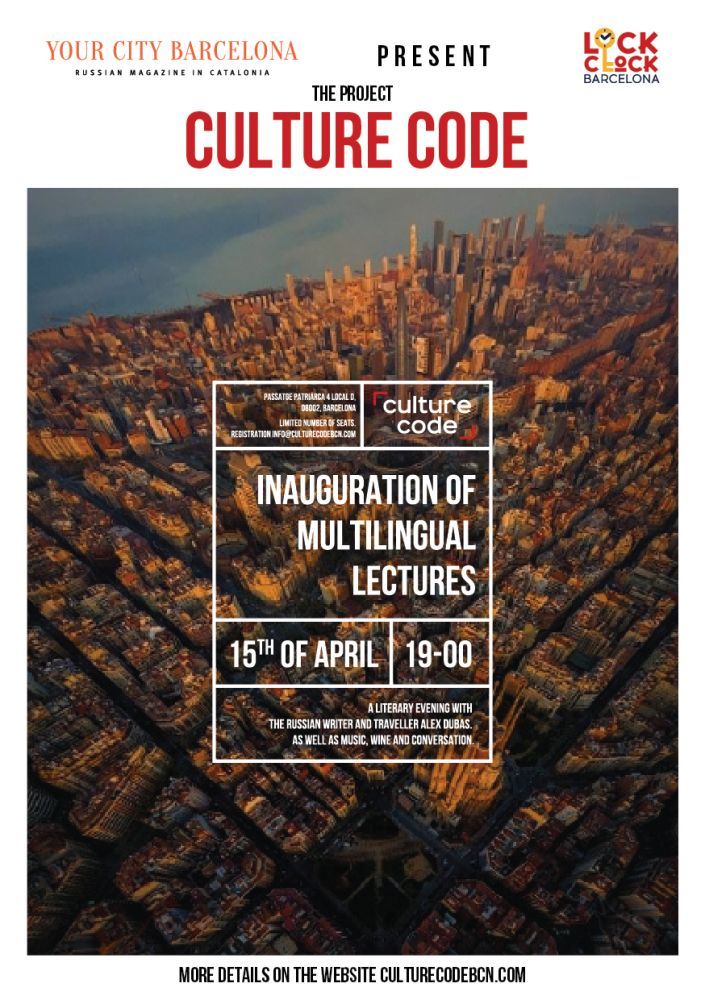 Your City Barcelona magazine and Lock-Clock Multifunctional Space Present
On April 15th we are launching Cultural Code, a lecture hall, where leading European and Russian experts in contemporary culture, art, literature, education, design, architecture, science and technology will be appearing to hold talks on a regular basis.
The main purpose of this cultural and educational project is to bring together a community of creative thinking people who are interested in the surrounding world in all of its manifestations.
The lectures will be open to the public, and their content, thanks to simultaneous translation will be available to anyone who speaks Spanish or Russian.
Cultural Code's first speaker will be Alex Dubas, a television and radio presenter, an author and traveller who is particularly well-known to the audiences of the Silver Rain radio station and the Kultura television channel. At the event, for the first time in Catalonia, Alex will read his piece "My Girlfriend Went to Barcelona, And All That's Left of Her Is That Stupid Story." It is about love, the spirit of urban spaces and corners, about music, the sea … It is about Barcelona!
The number of seats is limited. Registration is available via e-mail at info@culturecodebcn.com
We shall be delighted to see you at Passatge del Patriarca, 4, local D, Barcelona on April,15th at 7 p.m.