PERFORMANCE: "INSTANTES DE_MA_DE_RA" + "Life is a dream" Illustrations Exposition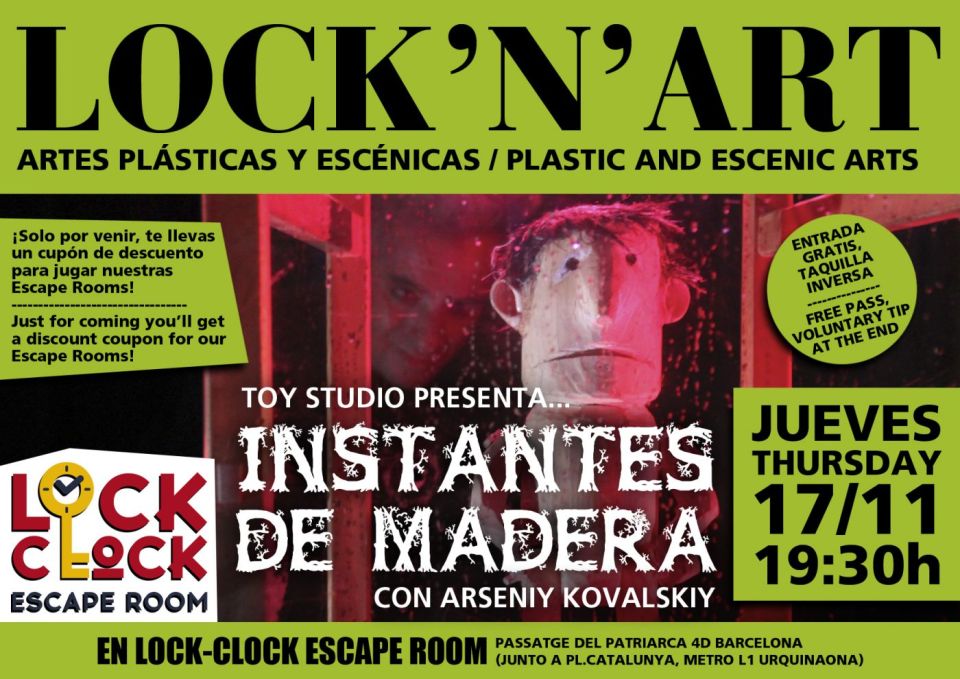 Lock Clock and TOY studio present
Instantes DE_MA_DE_RA (Wooden Moments),
An Arseni Kovalski Kova fantasy-play, a wooden puppets spectacle about the complex and magic relationship between the creator and his creation.
Limited capacity - Free entry
"Our whole life consists of moments, so do not lose this one".
Jorge Luis Borges
«If I was sitting on the shore and sea gave me a message in a bottle with these lines...
If Wooden Men could tell the waves about themselves ...
If sand rustled...
I still don`t know the name of this show. Any name or title only flirts with ever-changing present, with the elusive "Now". Only Love and Game can show the human heart, what REAL is. What this moment is...»
Actor and puppets' author - Arseniy Kovalskiy
17th of November 2016 h 07.00 pm in Lock Clock, Passatge del Patriarca 4D, Barcelona
Music: V.A. Mozart, M. Tariverdiev, J. Jorner, B. Grebenshikov, V. Evushkina
Language – Spanish
Duration– 50 min
---
Lock-Clock and White Noise present
Life is a Dream
New Illustrations Exposition from 17/11 to 30/11 by the German artist Désirée Steimer.